CLICK ABOVE to watch a short clip about Glycobiology

from one of our Live Classes

.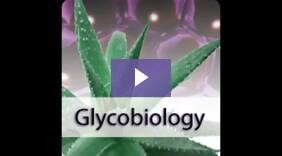 Glycobiology—
Every Living Cell's Untold Story
The science that studies sugar has been around since the early 1990's. In 2003 MIT proclaimed it one of the "top ten technologies that would change the world." There are Glycobiology departments in universities and research centers globally. World renown healthcare professionals, such as Dr. Ben Carson, former director of pediatric neurosurgery at Johns Hopkins Hospital, have lectured on it.
Harper's Biochemistry textbook has a chapter dedicated to this subject, but it has only been taught in medical school since 1996. It is so new that most doctors and other healthcare professionals know nothing of its existence—let alone the tremendous implications it has for immune system function.
The top scientific organization in the United States, the National Academy of Science (NAS) published a 200-page document in October 2012, entitled Transforming Glycoscience—A Roadmap for the Future. They observed a "widespread lack of understanding and appreciation of glycoscience in the scientific and medical communities and among the general public." In their publication they stated that "every living cell on the planet (human, animal, plant, and microbe) have these sugars (glycans) surrounding them and that every molecule, cell, or organism that interacts with a cell must do so through these sugars. In addition, "every disease that affects humans significantly involves these glycans." Clearly, these sugars represent the biomarkers for every major disease and are involved in nearly all biological processes within the body.
Sugar-nutrients For Life
There are approximately two hundred simple sugars found in nature but only the eight listed below are found in various combinations surrounding every single cell in the body, and are dominant ingredients in mothers' breast milk.
glucose
galactose
mannose
xylose
fucose
N-Acetylglucosamine
N-Acetylgalactosamine
N-Acetylneuraminic Acid (Sialic Acid)
Many of these sugars are stripped out of our modern, highly processed foods. They are also gravely missing from whole foods due to green harvesting and soil depletion. Our experience has been that the addition of these types of sugar-nutrients can have extremely positive effects on immune function and overall well-being.
Critical Factor for Proper Immune Function
While sugar-nutrients do not treat specific diseases, they do allow for the cells to send proper messages within the body. When our cells communicate clearly, it is amazing what the immune system is capable of doing. Our bodies know how to make corrections and restore proper function, given the raw materials they need. These critical sugars are like the vowels in our alphabet. When the vowels are in place we understand our conversation. If we took the vowels out of our conversation we'd be speaking gibberish and that would make communication severely limited. When our immune systems communicate properly the body listens, and that makes for a very exciting wellness journey!
---
Learn More About Glycobiology At Home
Our, 77-minute A Wellness Journey, class DVD (included in your Wellness Journey Welcome Kit) overviews altered food, supplementation and provides a synopsis of glycobiology. Our advanced class, a 75-minute Introduction to the Science of Glycobiology has been taught globally since 2004. This advanced class is geared toward healthcare professionals to spring board them to CME courses through LongevityEd, however, the general public is also encouraged to see it. We have a 35-minute overview of glycobiology entitled A Wellness Cellution which also includes a 35-minute overview of What's Natural About Being Synthetic? both of these classes are on the same DVD.
We have changed our whole lives to provide exposure to this education because no one else was doing it! There is simply no incentive for anyone to do it. If not for our classes, we "the people," would not have an option for this education and most would never know of its existence. I know through personal experience the critical role these sugar-nutrients have played for my own health and wellness and I wish the same for you and for those you love.
There are many components to wellness but if one as important as the communication of the immune system is missing, that's a significant missing component!
It has been such an honor for us to galvanize like-minded people to form our GrassRoots Movement. With our GRM, we now have certified facilitators around the world to help us provide exposure to this education which would otherwise be unavailable.
When you purchase your Wellness Journey Welcome Kit, you will receive our, A Wellness Journey, class DVD, which includes a 77-minute class, a study guide, a Consumer Awareness Guide and a Wellness Support Sheet.

Our most popular class,
A Wellness Journey
is available two ways!
Click below to order:

For Active Participants of the GRM:

If you are interested in participating in the GRM, please contact us at support@angiesoption.com